Master Ji
Master Ji (Kin) – Head Tailor, makes your Cotton Conscious clothing skilfully by hand, alongside his co-workers who live on the same street. Kin lives with his wife and two young children behind his tiny workshop.
This set up keeps all the family together, whereas many people in India leave their families behind as they migrate to the big cities for work, often not seeing their loved ones for months at a time or sometimes up to a year.
Kins daughter comes home from school and loves to help out, checking that all the mother of pearl buttons have been hand sewn correctly by the local Guru Ji (holy man) who works in complete silence. There is always a regular supply of savoury Indian delights, Chapatis & delicious, spicy sweet Chai tea made by Kins wife (Nita) who is always trying to get us to eat much more "lunch" than we need too .
For a few months of the year, we design and work alongside Kin in his humble workshop in the foothills of the Himalayas, India. Together we slowly make small quantities of each design. Ensuring our garments are exclusive, sustainable, stylish and practical, while being Consciously made in "The Land of the Gods", Rishikesh.
As we do not use a factory, agent or middle man, Kin is fairly paid, directly by us.
We believe you can feel a special energy in the fabric that can only be found when wearing handcrafted & handwoven clothing.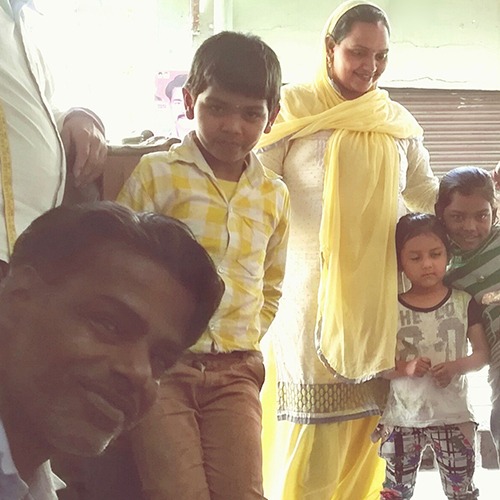 The Himalayan Khadi Cotton Mill Fabric
The Khadi cotton mill where our cotton is traditionally handwoven is a rehabilitation centre and home for men and women who have lost limbs and suffer from other disabilities. Sitting in the lap of nature, nestled in the foothills of the Himalayas, this truly is an idyllic and beautiful place to create this Indian heritage fabric.
All hand-spun, and hand-woven by manually powered looms, these natural yarns cannot be rushed and are made slowly with love. In 1918 Khadi was famously promoted by Mahatma Gandhi who considered Khadi a sacred cloth.
These beautiful textiles are used to create part of our Cotton Conscious collection of slow fashion, cotton clothing, cotton scarves, tote bags and pillow cases.
Traditional Rajasthani Block Print
Woodblock printing techniques were long established in China before becoming popular in many states of India, most famously the state of Rajasthan in around the 12th century.
The beautiful and intricate designs have become popular across the globe. The nature of hand block print means that imperfections sometimes occur which adds a unique feel to the printed textiles we use.
We spend a month or so every year with talented artisans in Rajasthan working on colours and block print patterns using natural dyes. Take a look at our range of handwoven and block printed clothing.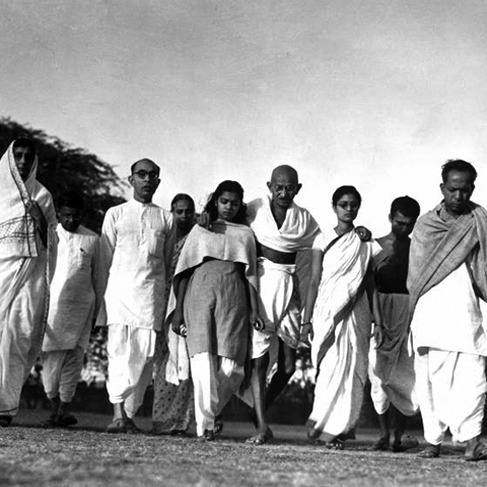 A Sanskrit word meaning 'hand-woven' and 'hand-spun'. Khadi has been described as the fabric of Indian independence. Promoted by Mahatma Ghandi in 1918, nearly all of the fabric used in our products is Khadi. This Indian homespun Khadi cotton cloth is slowly woven from organic cotton and may also include silk, or wool, which are all spun into yarn on a wooden charkha spinning wheel. You cannot find the feel, texture and quality of our handmade items in mass produced or factory made garments. Khadi fabric continues to be the coolest most comfortable and timeless heritage fabric. 
INSPIRATIONAL GANDHI QUOTE:Khadi is only seemingly expensive. I have pointed out that it is wrong to compare khadi with other cloth by comparing the prices of given lengths. The inexpensiveness of Khadi consists in the revolution of one's taste. The wearing of Khadi replaces the conventional idea of wearing clot   hes for ornament by that of wearing them for use – (Gandhi)