Indian Chai Wallah Chai Stall
Welcome to the Chai wallah tea stall, a true institution in India. It is the same in many cultures – A hot caffeinated drink in the morning, just the thing to wake you up and something that can be enjoyed throughout the day. Searching for the best Chai stall in the morning is one of the most enjoyed parts of travelling through India and the delicious mix of strong black tea, cardamon, ginger and milk with a generous helping of sugar to boost the taste, draws you back to the Chai Wallah time and time again.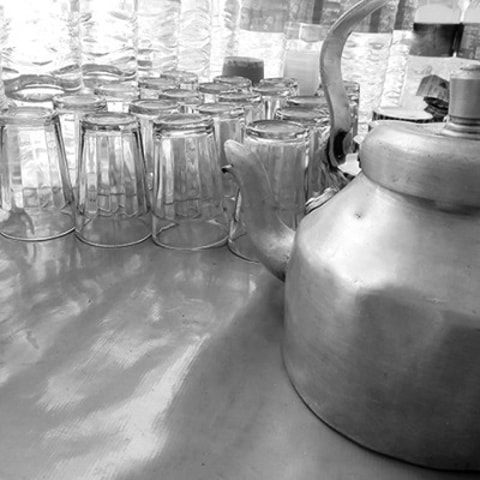 The Indian Chai wallah tea stall is far removed from your sterile Starbucks or Costa Coffee environment and we have yet to come across one with wifi which adds even more to the charm of the Chai Wallah. Take a stool and watch the world go by as travellers, pilgrims, the homeless and locals from all walks of life take a few minutes to chill out, exchange stories, recommendations and local gossip.
The Chai wallah is the master of ceremonies as he lights the gas burner adds the perfect mix of magic ingredients to the silver pot and after a few minutes dispenses the perfect piping hot cup of masala tea into Chai glass tea cups or Indian clay cup. Everyone happily sips Chai with a simple smile and the essential Indian (side head nod) acknowledging the fact that the Chai Wallah has done well again.
Ēka aura cāya (One more Chai)